LASIK Or Contact Lenses: Which Is Best For Me?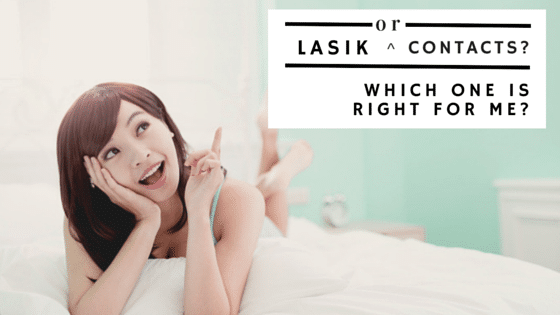 As LASIK reaches new levels of popularity, people of all ages are ditching their prescription contact lenses for laser vision correction. Here at Inland Eye, we see hundreds of patients wishing that there was a better solution to their blurry vision. While LASIK surgery is extremely safe and effective, there are some people who are better off sticking with their contact lenses.
Those who have used contact lenses for a long period of time understand the hassle that comes along with them – constant cleaning, red eyes, and the occasional piece of dirt stuck under the lens. LASIK and contact lenses both have their pros and cons, and our doctors at Inland Eye will be able to determine which is really right for you. However, for the sake of making informed decisions, let's discuss the reasons why one might choose LASIK over contact lenses, and vise versa.
Why You May (or May Not) Want to Choose Contact Lenses
Contact lenses are certainly an extremely popular choice for vision correction, with more than 30 million contact lens users in the US alone. Contact lenses offer many benefits and freedoms from eyeglasses, but what about when compared LASIK?
The Good
Firstly, not everyone is a candidate for LASIK. However, there are so many types of contact lenses in available today that there are very few people who are not candidates for contact lenses. Contact lenses tend to be available to a wider scope of people in comparison to LASIK. Those who are not candidates for LASIK can benefit greatly from contact lenses.
Many people prefer the non-permanence of contact lenses as well. Contact lenses are easily removed if you decide you would like to switch to another vision correction method, or if you occasionally like wearing eyeglasses. Color contact lenses can also be used to temporarily change the color your eyes. The results of LASIK are permanent, which is off-putting to some.
The Bad
One of the biggest complaints we hear at Inland Eye is that contact lenses are simply a hassle. To safely wear contact lenses, it is important to follow the proper cleaning and care guidelines given to you by your eye doctor. This means following wear times, cleaning your contact lenses and accessories often, and properly inserting and removing the lenses.
Of course, there are health risks that go along with anything we choose to put in our bodies, including contact lenses. Here are some of the risks and complications associated with contact lenses:
Improper contact lens care can lead to serious eye infections, which affect up to 1 out of every 500 contact lens users per year. (Between 40%-90% of contact lens users do not properly follow the care instructions for their contact lenses!)
Keratitis (an eye infection) leads to 1 million doctor and hospital visits per year, which costs $175 million to the US healthcare system.
The Pros and Cons of LASIK Surgery
LASIK surgery is one of the most common and effective refractive surgeries in the US. Millions have undergone LASIK surgery with great results. Many people, especially those who have been dealing with contact lenses and eyeglasses for a long time, are ready and willing to receive this permanent vision correction surgery.
The Good
LASIK surgery has a remarkably low complication rate, contrary to some popular myths. The actual surgery itself is very simple, fast and safe. The LASIK craft has been tweaked and perfected since its introduction and is now one of the safest eye surgeries in the world.
LASIK offers a certain level of freedom that cannot be attained through the use of contact lenses. Those who have LASIK do not deal with the hassle of cleaning and taking care of contact lenses, they simply get up and go. LASIK is generally better for those who lead very active lifestyles and cannot dedicate the time to properly caring for contact lenses.
The Bad 
LASIK surgery, as with all surgery, does have risks and a few side effects. Immediately after LASIK surgery, patients generally experience symptoms of dry eye syndrome. Symptoms include dry, itchy eyes, the feeling that something is in your eye, and redness. These side effects should subside quickly.
LASIK complications are so rare because doctors only perform this surgery on people who carry a low risk of complication. Here are some of the more rare risks and complications associated with LASIK surgery:
Glare, halos and double vision. These complications make seeing at night difficult.
Dry eye syndrome. Beyond the normal, temporary side effects of LASIK, some people can develop chronic dry eye syndrome.
In very rare instances, vision may be over or under corrected.
Now that you know a little bit about each of these vision correction options, you might have a good idea of which method you prefer. The next step is to make an appointment with one of our doctors here at Inland Eye, so they can determine if your preferred method is right for you. Say goodbye to the annoyance of eyeglasses and hello to freedom!