Patient stories
Those who visit the Inland Eye offices are often looking for a lifetime of eye health but find themselves with questions and concerns. That's why we love highlighting the stories and experiences we receive from other patients.
Your story not only motivates us to continue doing what we do but also encourages others to pursue vision correction and discover a life without limitations.
On this page, view various stories from patients who, too, had initial questions but discovered a life of clear vision with the help of Inland Eye Specialists.
---
Featured Stories
Dinora's LASIK Journey
Clear vision is essential…See how LASIK returned clarity to Dinora's vision.
Our patient, Dinora, has her iLASIK vision procedure with Duncan Johnson, MD at Inland Eye Specialists' Laser Center in Murrieta, CA.
Brandon's PRK Journey
The life-changing power of PRK
Our PRK procedure has given Brandon the freedom to live a life without glasses and contacts.This procedure was performed at Inland Eye Specialists' Laser Center in Murrieta, CA.
---
Reviews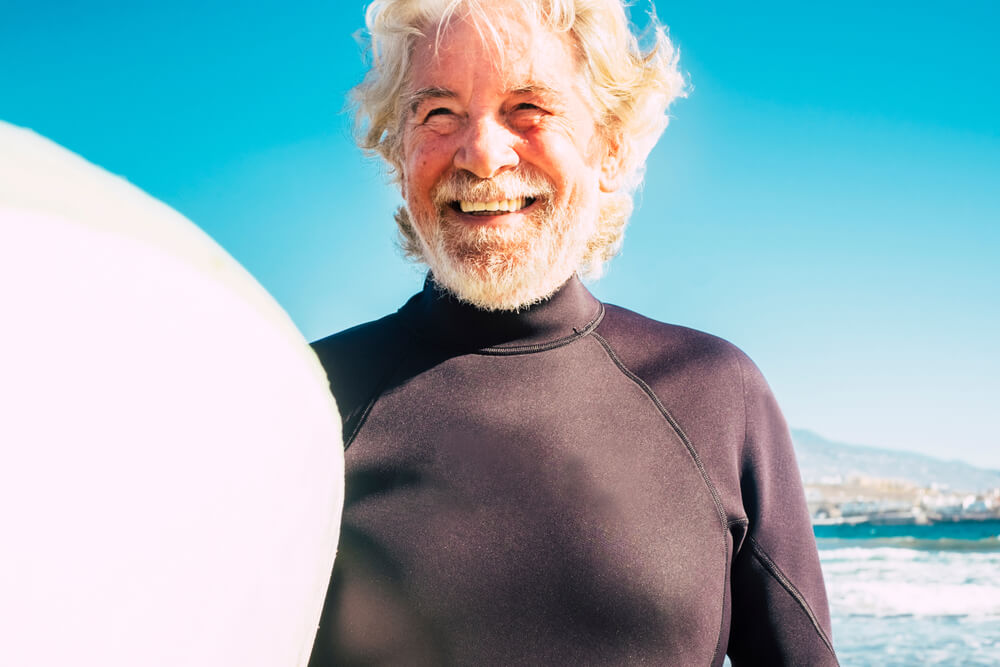 Hearing about your experience with the Inland Eye Specialists is what makes our job worth it. It's also what helps us understand how we can improve.
Tell us about your recent experience or read testimonials from some of our other patients (both past and present).
"Dr. Tew and Dr. Carlson, we want to thank you for all our excellent care we have had. Thank you so much, we really appreciate your service and dedication to the eye profession."

Abe and Paulene Vander Burgh
"I had an excellent experience from beginning to end. The initial consultation started with Dr. Johnson explaining what was to be expected during the entire process. His clear and detailed explanation made it easy to understand. The actual LASIK surgery itself was a breeze. During the entire process, Dr. Johnson and his team were very good with explaining what was going on at that moment, which really put me at ease. Many thanks to Dr. Johnson and Jennifer Molina and the entire team for making this an excellent experience and helping me restore my vision! Thank you!"

Quyen Lee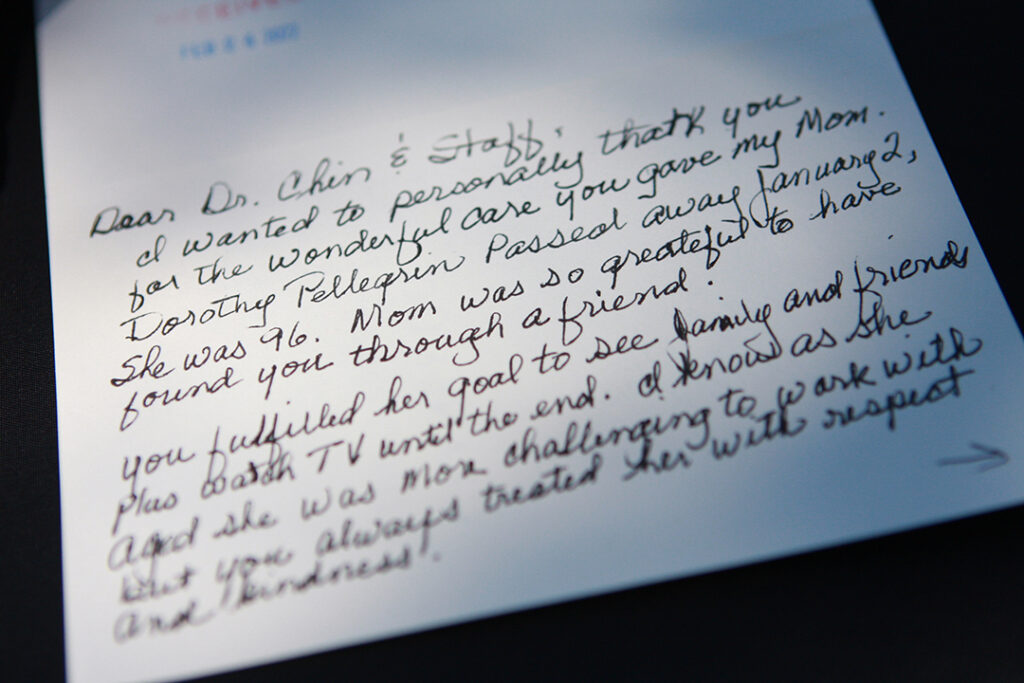 "Dear Dr. Chin & Staff, I wanted to personally thank you for the wonderful care you gave mom. Dorthy Pellegrim passed away January 2, she was 96. Mom was so grateful to have found you through a friend. You fulfilled her goal to see family and friends plus watch TV until the end. I know as she aged she was more challenging to work with but you always treated her with respect and kindness. Thank you for working your magic allowing her to see all the colors of the rainbow. Her family is blessed she was in your care."

Adele Mauree
"I decided to have LASIK after wearing contacts and glasses for 15 years. I would always have issues with my contacts getting dried out or blurry. I have been going to Inland Eye Specialists since I moved to Southwest Riverside County Valley and have been so pleased with their services and their entire staff. I was very nervous when doing my initial LASIK consultation but both Dr. Johnson and Jennifer Molina explained everything and really made me feel at ease. The day after surgery, I woke up and was able to see! It felt so amazing and the procedure was so quick and painless, all my nerves were for nothing! I am so pleased with my experience from pre op to post op I would recommend Dr. Johnson and Inland Eye Specialists to anyone and everyone!"

Lorraine Galvez
"I have been fortunate to have Dr. Geller as my optometrist for the last 10 years. Throughout the years he had been educating me on the Lasik procedure and encouraging me to look at it as an option for my vision loss. I had no problems with my monovision contacts and wearing the beautiful glasses I would purchase from his office. I finally decided to have Lasik and on September 27, 2012, I underwent the procedure. From my first contact with Dr. Phillips I could see and sense that he was very professional, knowledgeable and had a very positive caring demeanor. I wasn't scared because I trust Dr. Geller and he was the one that recommended Dr. Phillips. The procedure went without a hitch and I felt that I should have had the procedure sooner. Dr. Phillips and Dr. Geller have taken care of me well and I thank them both."

Norma Gonzales RN/BSN, Director, Neurological Care Unit of Community Hospital of San Bernardino
"I want to thank everyone at Inland Eye Specialists for making my eye surgery a success. All of your employees were kind and efficient and best of all i can finally see. It has really made a difference in the quality of my life and for that i am grateful. I am usually very nervous about procedures and your staff made me comfortable and really seemed to care. I will recommend you to my friends and look forward to staying in touch in the future. The multi vision lens are fantastic and do exactly what we hoped they would do."

Dan Atwood, Owner, Toyota of Southwest Riverside County
My vision at football games, driving on the freeway, and riding on my road bike is incredible. I did not expect that with the removal of the cataract and the insertion of the new lenses, that the colors would pop, my car instrumentation world become so sharp, or that I would be able to read the tiniest print on my Garmin bike computer, I am happy to say all three of these experiences are part of the unanticipated. Thanks for your skilled evaluation and surgery, and for your terrific staff"

Jon. H Lieberg
"I've been a patient of Dr. Robert Sorenson for over ten years. After many years of dealing with high eye pressures, as well as cataract & astigmatism issues, in late July 2013 my right eye finally developed a serious problem.

I am a retired career broadcaster, so I am very visually oriented. I couldn't imagine not being able to see clearly from one or both eyes. When my right eye became seriously blurred, it was obvious to Dr. Sorenson that it was time for eye surgery. He conducted thorough exams of both eyes to determine exactly what was needed to restore my vision to an optimum condition.

Replacement of my natural, flawed eye lens and insertion of intraocular lenses became necessary in addition to surgery for cataracts and astigmatism. Inland Eye Specialists gave me vast amounts of information so I could make the right choice of IOL (intraocular lens) that would benefit me the most. You get nervous to learn that your natural eye lens will be removed and replaced by a new scientific product. After all it is a surgery. At this point, Dr. Sorenson, his assistants, and the ladies in the surgery center combine to give you advice, brochures, and tell you what you are medically qualified for and how each of the options affect you. You have to consider what your insurance provider will cover. I learned that Medicare would only cover the basic monofocal IOL's. This means if you wore glasses before the surgery then you'd probably need glasses after the surgery. Another option concerned astigmatism, while the third option was the multiple focal lenses inserts. With multifocal lenses you have a chance of being able to replace your original lens and not have to wear glasses to correct the vision. Medicare pays for the surgery portion but because it's your option, you pay for the lens cost for the new technology. I chose this option, not for vanity, but for the ease of not having progressive glasses to read both near and far. For optimum improvement you must do both eyes. I can personally attest that in the week between surgeries on each eye and the weeks following the changing of both IOL's, your eyes adjust better and faster to their new home. I had no pain during the surgery and none afterwards. I've waited four months to write this letter so I could know for sure whether it really worked and to see if any side effects or negative reactions would occur. I can simply & happily tell you – it worked perfectly. I don't need glasses to read or to see far. I am completely happy with the whole experience. "

Donald M. Conniff