What is an Optometrist?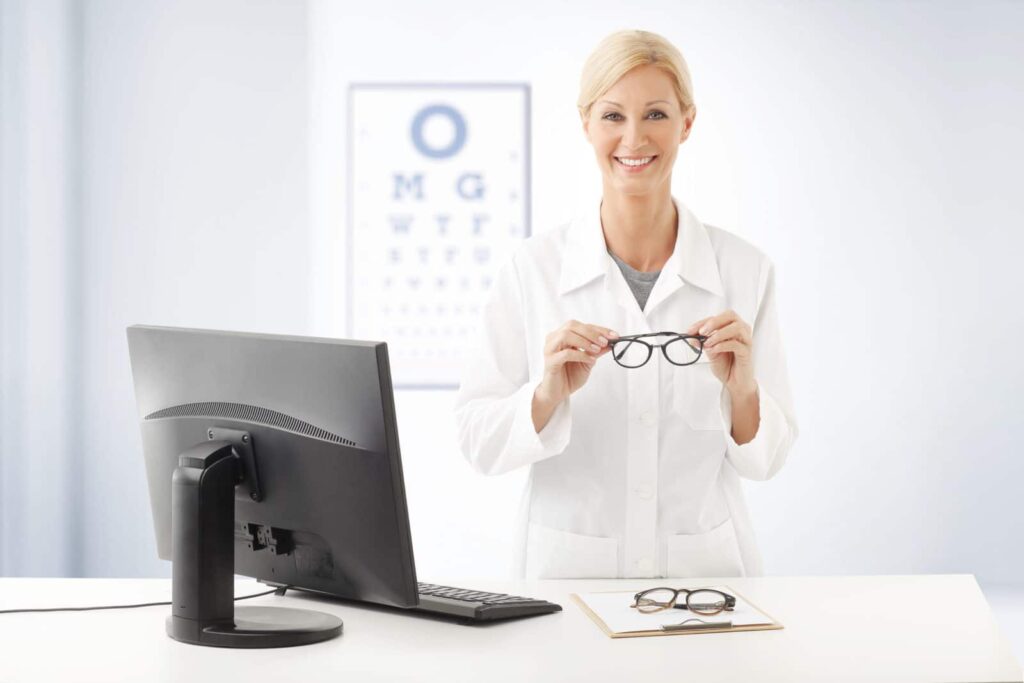 If you have been trying to look for an eye specialist for a regular eye check-up or any other eye problem, you may have discovered there are a wide array of different types of eye care professionals. More specifically, you may have come across the word optometrist and are now wondering what is an optometrist.
What is an Optometrist?
Optometrists, also known as Doctors of Optometry or ODs, are primary healthcare professionals who care exclusively for the eyes. They provide comprehensive eye care and are concerned with the examination, diagnosis, treatment, and management of eye-related disorders.
A common misconception is that optometrists are only able to create lens prescriptions for glasses, but they actually provide a much wider scope of services. It is advisable to visit an optometrist at least once in a year to maintain the health of your eyes and prevent future vision problems. If you have conditions like diabetes, it is recommended that you schedule an appointment every 6 months.
How do they get their Degree?
An optometrist must obtain a bachelor's degree,   in a pre-med emphasis. After completing their undergrad, optometrists must pass the Optometry Admission Test that will allow them to get accepted into a 4 year Doctor of Optometry program. Depending on the state, an optometrist must pass the National Board of Examiners in Optometry and other tests which include a clinical or law exam. Finally, a license must be obtained in order to practice in the state you wish to be employed in.
Optometrists mostly work as primary eye care specialists. Some prefer to get additional certification or specialize in particular fields like contact lenses, pediatrics, geriatrics or vision therapy.
What Services do they Offer?
Optometrists offer a wide range of services:
Eye examinations that assess vision and the ability to focus. These examinations may also detect potential diseases and sometimes even brain tumors.

Treating

common eye conditions

like (myopia) nearsightedness, (hyperopia) farsightedness and astigmatism (blurred vision due to the irregularly shaped cornea).

Prescribing and fitting of eyeglasses and contact lenses

Diagnosis of eye diseases like
Glaucoma – A condition of high internal pressure that damages the eye's sensitive nerves and worsens over time, leading to blindness if untreated.
Cataracts – In this condition, the normally clear lens of the eyes gets clouded and affects vision over time. It is commonly inherited and seen in the elderly.
Macular degeneration – It is an age-related degeneration of the part of the retina called macula.
Diabetic retinopathy – High blood sugar levels in diabetes can cause damage to the blood vessels in the eye and can lead to blindness if unchecked.
Conjunctivitis – It is the redness and inflammation of the transparent, thin layer of tissue that covers the eye.
Prescribe medications for treatment of certain eye conditions.

Refer patients to other healthcare professionals as per their diagnosis and needs.

Work alongside ophthalmologists to provide pre and post-operative eye care.
Optometrist vs Ophthalmologist
What is an optometrist and why an optometrist differs from an ophthalmologist can be understood as follows:
Optometrists should not be confused with ophthalmologists. Ophthalmologists, unlike optometrists, are qualified to perform surgical procedures like LASIK and diagnose and treat many eye diseases. They are also involved in scientific research that finds causes and cures for eye diseases and vision disorders.
Ophthalmologists must go to medical school in order to become a practicing doctor.
They complete 4 years of medical school along with 1 year of internship. After that, they add a minimum of 3 years of residency in ophthalmology to become an ophthalmologist.
If this information does not answer your question 'what is an optometrist', then feel free to visit our center to see the wide range of services an optometrist provides.